The gift-giving season is nearly here! We asked Non-GMO Project team members what they're excited to give and receive this year. They came back with a range of items to show your loved ones how much you care. Whether you're looking to make a big splash by investing in a future family heirloom, seeking something small for stockings or going entirely DIY for a personalized, low-cost gift, there's something here for everyone.
Kitchen tools are an excellent choice for aspiring foodies! A high-quality, cast iron skillet will last a lifetime — and a properly-cared-for skillet may even become a family heirloom. Cast iron cookware develops a smooth black patina as the years pass, creating a slick, non-stick surface. Because cast iron gets better with age, it's worth investing in quality. Here is a breakdown of some of the most sought-after brands.
Lomi is a gadget with a green mission. Regenerative practices like composting are where it's at, but multi-bin composting systems don't necessarily work for everyone. They can be bulky and time-intensive, and scraps from rich foods such as meat or dairy can attract pests. If you have someone on your list with a big heart, a green thumb and little or no yard space, the Lomi could be just the thing. Lomi is a food waste digester that sits on your kitchen counter. It dramatically speeds up the composting process, creating usable soil in less than 24 hours. Plus, Lomi has a net positive impact on a household's carbon footprint, keeping food out of landfills and reducing dangerous methane emissions.
A gift to delight the senses? Take aromatherapy and DIY to the next level by putting together a simmer pot package. Check out this TikTok to guide you through making a low-cost, low-waste, handmade gift, or try out a new combination of scents. You can even experiment, adapting these recipes for a truly one-of-a-kind present. Essential oils can be used in small amounts in diffusers, warm baths or directly on the skin, and Nature's Answer offers dozens of Non-GMO Project Verified and organic scents and blends. Support wellness this winter with Immune Defense or try Vitality Ener-Boost to awaken the senses.
For the sophisticate on your list, try a bottle of Bordeaux. Château de Lagarde wines are crafted exclusively from organic and non-GMO ingredients. The Raymond family — dedicated wine growers in the Bordeaux region since the 1850s — steward the vineyards, which have been entirely organic for over 20 years. The Raymond family motto is "We love our soil, you'll love our wine."
Lastly, Non-GMO Project Verified personal care products are always a winner! Eco Lips offers exfoliant + balm combo packs to soothe and beautify chapped lips. Eco Lips has every certification the conscientious shopper could want: Non-GMO Project Verified, Fairtrade, Cruelty-Free, Certified B Corp and more! For head-to-toe care, try Booda Organics, a favorite of Non-GMO Project staffers. Pick a couple of ready-to-go gift sets or mix-and-match individual products for a personalized selection. (For more on self-care and wellbeing, join us in February for our Wellness campaign.)
From all of us here at the Non-GMO Project, we wish you the happiest of holiday seasons.
At Zing, we're celebrating our Non-GMO Project verification status! In addition to raising awareness about sustainable agricultural practices, we're also excited to partner with like-minded brands to help educate consumers about the importance of choosing non-genetically modified foods.
Here at Zing, we pride ourselves on providing real, nutritious solutions for the entire family. We believe that food influences how you feel, and hope you find comfort in knowing that we choose organic, glyphosate-free oats. Our recipes do not contain non-nutritious oils, sugars or preservatives. All of our products are Non-GMO Project Verified because we believe our customers deserve the strongest certification for GMO avoidance.
Now let's dive into this topic by answering a few FAQs!
What are GMOs?
GMOs = Genetically Modified Organisms. GMOs can refer to any living thing that has had their DNA altered through biotechnology. When it comes to GMOs, most of us tend to think of crops rather than all living things - but GMOs can refer to any plant, animal or organism whose DNA has been altered outside of the cell, or combined with the DNA of another species.
Why are we avoiding them?
The safety of GMOs is a complex subject. The majority of safety studies on GMOs are conducted by the same companies making the GMOs. Sketchy? We agree.
There are cases when the GMO modification process is used on microorganisms to create medicines and vaccines, which can be useful for medicinal development. Yet, when we refer to daily nutrition, the positivity shifts to uncertainty. In the absence of independent, long-term safety testing, the ultimate effects of consuming GMOs are unknown. At Zing, we're also concerned about the impacts of the pesticides that go hand-in-hand with many GMO crops.
What common GMO foods should we look out for?
Believe it or not, some well-known GMO foods include items you may be eating daily: corn, soy, squash, apples and potatoes — to name a few. Many farmers grow GMOs to make it easier to apply weedkiller or resist insects. Because GMOs are common in livestock feed, the Non-GMO Project Standard includes guidelines for ensuring livestock that supply eggs, dairy or meat receive non-GMO feed.
Why is the Butterfly label so important?
As we discussed, a "non-GMO" claim on food suggests that all ingredients were derived from plants, animals, or other organisms whose genetic material has not been altered through biotechnology. Unfortunately, a self-made"non-GMO" claim is not always trustworthy because it is not third-party verified.
Voluntary "non-GMO" labeling is acceptable to FDA, provided it is truthful and not misleading. FDA has guidance for manufacturers who voluntarily label their products as "non-GMO" which includes recommendations for ways to substantiate the claim. This is guidance, however, and is not legally enforced.
To ensure that your purchases are truly "non-GMO," look for a third-party certification label like Non-GMO Project Verified or USDA Organic. Since 2007, the Butterfly label has helped millions of people find Non-GMO Project Verified products quickly and easily. The Butterfly is the leading third-party certification for GMO avoidance. To be Verified, each product goes through a thorough review process. Its major and minor ingredients are traced back through the supply chain — giving us (and you!) the most accurate information about the food you eat.
Why is non-GMO best for our planet?
Many GMO crops are grown in a chemical-rich environment that damages the soil, increases pollution and makes use of considerably more energy; which, in turn, causes a strain on the earth's natural resources.
Support the Butterfly with us!
At Zing, we are committed to building a better food system, and bringing you the best possible products while we're at it. Join us in celebrating non-GMO foods by seeking out products with the Butterfly label at your local retailers!
By: Christie Lucas
The Non-GMO Project was created to provide a trustworthy and rigorous way to avoid GMOs in food and personal care products. Simply put, the Project was created to serve you and millions of people like you. We serve everyone who grows, makes, buys, sells and eats food in the United States and Canada.
By maintaining the Non-GMO Project Standard and verifying products that are in compliance, our nonprofit organization serves the public and simultaneously protects the non-GMO food supply. Win-win.
Recently, the Non-GMO Project partnered with SPINS, a data and insight company in the natural and organic space, to assess how well the Butterfly was working for shoppers and brands. The report analyzes sales information for products that make a non-GMO claim.
The results were striking.
"Self-made claims aren't enough."
SPINS analyzed consumer data from the two year period between 2019 to 2021. The data compared Non-GMO Project Verified product sales with products with other certifications, self-made claims or no GMO claims at all.
We found that products with the Butterfly grew in popularity faster than comparable claims. Non-GMO Project Verified products showed more sales growth than Certified Organic or self-made non-GMO claims. A self-made GMO claim is when a product is labeled "Made without GMOs" or something similar but lacks an independent certification. When a brand makes its own non-GMO claim, it asks consumers to trust that claim without any evidence. For example, a self-made claim doesn't identify how ingredients are sourced or tracked, whether they are tested or how contamination is handled. There is no enforcement mechanism for violating the rules because there are no rules.
Both Non-GMO Project verification and USDA Organic certification are third-party certifications. Third-party certification means independent experts are responsible for evaluating products that apply for certification. Relying on independent, third-party experts upholds the certification's integrity by reducing conflicts of interest.
Clearly, eaters look for the Butterfly for non-GMO choices because they trust the value it provides.
Read more about third-party certification here.
Why do eaters look for the Butterfly?
People opt for Non-GMO Project Verified products for many different reasons. Some folks are concerned about corporations gaining control of the food system through restrictive patents, and others are motivated by the negative environmental impact of GMO agriculture. At the end of the day, the Butterfly helps you make a choice that aligns with your priorities and values.
Here are some of the ways Non-GMO Project verification can help you:
Avoid greenwashing —

Sustainability is more important than ever, but how can you tell which labels or claims have substance?

The Butterfly relies on third-party certification to back up its mark, making it a clean food label you can trust.

Make more natural choices —

Non-GMO Project Verified products can help you make more natural choices, especially when shopping in the

refrigerated or frozen food aisle.

Shop with confidence —

An estimated 70-80% of processed foods contain GMOs. With that saturation level, avoiding GMOs without a trustworthy certification is next to impossible.
The Butterfly means you don't need a comprehensive knowledge of GMOs and their derivatives. We do that work for you, and third-party certifiers ensure Verified products meet the Non-GMO Project Standard.
Choosing a better food system
While working with SPINS to analyze sales data, we noticed that products with the Butterfly saw a steeper rise in sales when compared with USDA Certified Organic products. Perhaps the Butterfly's success relates to the simplicity of the mark and the transparency of what it stands for — while the National Organic Program lists GMOs under "excluded methods," it does not require testing or determine action thresholds to enforce the exclusion. The phrase "organic is always non-GMO" is true in principle but not always in practice.
We're delighted that the most popular products had both certifications, Non-GMO Project Verified and USDA Organic. We are great supporters of the organic movement and consider dual certification the gold standard of clean labels. With new GMOs entering the supply chain, the Butterfly is more important than ever.
Did you know plant-based foods are one of the fastest-growing grocery categories? Shoppers are picking more plant-based options than ever before. As the plant-based category grows, so does biotechnology's interest in it. 
Traditional, transgenic GMOs — including herbicide tolerant soybeans and corn engineered to create its own pesticide — have threatened the plant-based movement since they first entered the market in the 1990s. More recently, ingredients made through new GMO techniques such as gene editing and synthetic biology are popping up in some plant-based options — this infographic will show you where.
But, there is hope! For each product made with new GMOs, there is a wealth of non-GMO and organic options. The Non-GMO Project is proud to partner with more than 300 brands with Verified plant-based options. 
Here are just a few of the companies embracing non-GMO innovation to make delicious and natural plant-based products. Enjoy!
Mouthwatering meat alternatives
Seattle-based Field Roast has been making delicious plant-based "loaves" since 1997, proving that plant-based products don't follow trends, they start them. Field Roast even journeyed into the natural habitat of some of America's most passionate hot dog consumers: stadiums and ballparks. 
Good Catch offers a fresh plant-based take on seafood. The company's goal? To raise awareness of overfishing and reduce pressure on the world's oceans while delivering delicious plant-based options. In a few short years, their product range has grown to include crab cakes, salmon, tuna, fish sticks and fish burgers — all crafted from a magic blend of six different types of legumes. 
Delectable Dairy Replacements
For the perfect addition to your morning coffee or cereal, Califia Farms has a plant-based option for every dairy need. From take-home plant-based milks and creamers to barista-ready blends that froth just like the real thing. There's even a range of creams suitable for cooking, to keep your favorite recipes animal-free.
Misha's Kind Foods makes real cheeses and spreads "in the traditional way — just without the dairy." This Black-owned company is backed by some serious star power. Jay-Z and Chris Paul are both investors and Lizzo brought one of her favorite recipes made with Misha's ricotta to her 25.3 million Tik Tok followers. 
Powerful proteins
Puris is a family-owned company in search of the perfect protein. Through cutting edge non-GMO crop genetics, Puris has developed high-yield, disease-resistance legumes and pulses — and a compelling vision for the future. They take great pride in working with farmers to ensure regenerative farming doesn't cost the farm or the earth. 
…and for dessert?
For scrumptious sweets and tasty treats without animal-derived ingredients or GMOs, Divvies goes the extra mile, providing desserts free from major allergens such as peanuts, tree nuts, eggs and dairy. The company's name reflects their philosophy of creating a product for everyone to enjoy and share. From the frozen foods aisle, Nada Moo dairy-free ice cream is made with organic coconut milk. It's Non-GMO Project Verified, gluten-free, vegan and fair trade certified. Nada Moo is also a certified B Corp, proudly considering the impacts of all their business decisions on people, communities and the environment. 
The original plant-based foods are, of course, plants. For thousands of years, humans have been enjoying fruits, vegetables, grains, seeds, legumes and nuts, and combining them to create plant-based milks and patties. The brands highlighted here are some of the latest innovations in the plant-based space — but there are many more to explore. Visit our Verified Product listings to find more excellent plant-based options, and stay tuned for more planet-friendly plant-based foods!
During the last few years, grocery shopping has gone from being a reasonably predictable chore to something more like a roller coaster ride. From pandemic-induced pantry stocking, supply chain shortages and historic inflation, many of us have one eye on our shopping cart and the other on our pocketbooks.
With the rising cost of groceries affecting nearly every product category, lots of people are trying to trim their grocery bills. Which made us wonder: Can we still shop our values while balancing our finances? Is it still possible to "vote with our dollars" if those dollars don't go as far as they did a year ago? 
Choosing Non-GMO Project Verified products is the most impactful way you can help grow the non-GMO food supply, and we are grateful for your support. To make your non-GMO commitment easier, we created the definitive guide to which products have the greatest impact on the non-GMO food supply and which are most resistant to inflation. Looking for the Butterfly where these categories overlap can help those dollars — and votes! — go further.
Non-GMO for omnivores and vegetarians alike
While GMOs show up in virtually every aisle in the grocery store, there are a few product categories that are uniquely affected. 
For example, animal-derived foods (meat, poultry, eggs and dairy) carry a lot of weight because most genetically modified corn and soy ends up in animal feed. Non-GMO Project Verified animal-derived products come from livestock that received non-GMO rations. When you choose Non-GMO Project Verified animal-derived products, you're supporting a supply chain that doesn't rely on GMOs. 
Price increases haven't hit all product categories equally, as world events impact different supply chain sectors in unique ways. The poultry industry has seen sharp increases because of avian influenza outbreaks. The average price of chicken rose 23.9% in the past year and eggs have gone up a staggering 64.9%, according to the Consumer Price Index. Meanwhile, beef has shown more modest price increases and the price of bacon is starting to trend down. 
The dairy aisle is another excellent place to go non-GMO. Dairy cows producing Verified milk receive non-GMO feed, and the Butterfly also helps you avoid genetically engineered "non-animal" dairy proteins made through synthetic biology techniques. Non-animal dairy products include synthetic milk, ice cream, cheese spread, desserts and synthetic egg replacements, but the technology is rapidly expanding. 
Also, vegans and vegetarians rely on Non-GMO Project verification to access natural plant-based dairy replacements and steer clear of products made from GMOs such as soy.
Cereals, bakery products and sweets
Products made from grains, particularly grains considered high-risk for being GMOs, are another good place to go non-GMO. More than 92% of corn grown in the U.S. is GMO, and genetically modified wheat is also entering the supply chain right as non-GMO wheat production in "the breadbasket of Europe'' is disrupted by the Russian invasion of Ukraine. So far, price increases in cereals, bread and other bakery products have been relatively modest.
While we don't recommend sweets as the main feature of your diet, it's worth looking for the Butterfly when you decide to indulge. Many processed and sweetened foods contain sugar from genetically modified sugar beets or corn syrup from genetically modified corn, and genetically modified sugarcane cultivation is also expanding in Brazil. 
The produce section can provide some of the healthiest options for your body and bank account. There are only a small number of genetically modified fruits and vegetables* on the market, leaving you with many tasty and nutritious options. 
If the last few years are anything to go by, the future could bring new surprises and supply chain impacts. The future will almost definitely bring new GMOs onto the market, which is why our dedicated research team is tracking developments in real-time so we can keep you informed, too. 
As always, we work to make it easier for you to make non-GMO choices, and with this article, to help your dollar — and the "vote" that goes with it — go further at the grocery store. 
*See the Non-GMO Project Standard High-Risk List for particular items.
The holiday weekend is nearly here, and on both sides of the 49th parallel, cookouts abound. With Independence Day celebrated July 4 in the U.S. and Canada Day on July 1, there's no shortage of backyard parties — and we can help with cookout-friendly products and homemade accompaniments, all non-GMO.
You can find the Butterfly in virtually every aisle at the grocery store, or you can search the Verified product listings for something specific.
Halo + Cleaver makes low-sugar sauces that satisfy your tastebuds without sacrificing your health. The company's founder, Matt, comes by his expertise honestly: butchering and barbecuing are in his blood. But, when Matt began experiencing health issues, he knew he had to reevaluate his diet. Matt didn't want to stick with bland food to regain his health, and he doesn't think you should have to either. 
These barbeque sauces and ketchups are made with no added sugar or high-fructose corn syrup. Instead, Halo + Cleaver uses apples, pineapples and bananas to sweeten their products naturally while bringing you bold and multi-layered flavor. Their entire line is dairy-free, gluten-free, keto friendly and whole30 approved. Available online and through select U.S. retailers.
Finally, a 100% plant-based veggie burger that offers all the convenience, nutrients, and flavor without any wheat, gluten, or isolates — and no bull! 
The NoBull Burger isn't meant to imitate meat. It's got its own thing going on. Handcrafted, whole-food veggie burgers made from organic lentils, grains and roasted vegetables, NoBull was born out of a simple belief that when we eat good, we feel good, and when we feel good, we live a healthier, happier life. Available at Whole Foods Market in the freezer section.
Beside the burger
Alas, we cannot live on burgers alone. Enjoy these summer side-dishes adapted from The Non-GMO Cookbook: Recipes and Advice For a Non-GMO Lifestyle by Megan Westgate and Courtney Pineau.
Chicken Summer Salad
Low-calorie, gluten free and very healthy, this is a great dish to throw together for a potluck or serve at any summer party! 
2 cooked chicken breasts, cubed
2 bunches baby kale (or arugula, baby romaine, or fresh spinach), roughly chopped
1 peach, sliced
1 small cucumber, peeled and chopped
¼ cup Old Chatham Creamery Goat Chèvre Original, crumbled
1 tbsp plus 1 tsp extra virgin olive oil
1 tsp balsamic vinegar
Salted pecans to taste
Sea salt and pepper to taste
While the chicken is still warm, mix all ingredients together in a large bowl. Make sure everything is evenly combined and let it sit for a few minutes so the goat cheese melts into the olive oil and the greens wilt slightly from the warm chicken. Serves 4.
Wild Summer Salad
This dish is gluten free and vegan. For a non-vegetarian version, try adding 1 cup cooked and cubed chicken breast. 
1 cup Lundberg Wild Blend rice
¾ cup tomato, seeded and diced
¾ cup green onions, chopped
⅓ cup cooked green peas
4 tbsps rice vinegar
1 tbsp sesame oil
1 clove garlic, peeled and minced
½ tsp dried tarragon
½ tsp sea salt
½ tsp black pepper
Cook the rice according to the package directions. Combine cooked, cooled rice with all ingredients. Toss lightly. Chill and serve. Makes 4 servings.
Save your spoon, there's dessert
Of course, no cookout is complete without a scoop of ice cream. Whether you're looking for simple vanilla to top off a pie or crumble or something more daring, there's a flavor for every palate. Check out our top picks in dairy and vegan frozen desserts here.
We wish you all a happy and healthy holiday hootenanny!
Do you scream for ice cream? Or perhaps you love the taste of plant-based? Either way, we've got you covered with chilled Non-GMO Project Verified treats certain to satisfy. Each brand offers something special, and all create innovative flavors made with high-quality ingredients.
Ice cream and non-dairy frozen desserts pair wonderfully with fresh berries that are just coming into season. Or build out a whole self-serve sundae station at your next cook-out!
What are you waiting for? Add a scoop to that pie or crumble. With dozens of flavors available in dairy and plant-based options, the sky's the limit.
Join us next week when we bring you the best non-GMO side dishes and condiments for your next cookout. By the time the 4th of July weekend rolls around, we'll have your whole menu sorted — and Verified!
If you're like many shoppers, you want to know how the food you buy affects people and the planet. That's why you look for transparency from stores, brands and manufacturers.

At the Non-GMO Project we believe you have a right to know how the products you buy align with your values, and third-party certifications play a crucial role. When you see the labels with independent third-party certifiers on your food, you know that the product faced a rigorous and impartial evaluation to ensure it met a specific, transparent set of standards. 
After all, accountability keeps the good food movement on track!
To celebrate the positive impacts these little labels make, this October we're participating in Good Food Month — honoring Fairtrade Month, National Seafood Month and Non-GMO Month in one! By looking for the Non-GMO Project Verified, Fairtrade Certified and Marine Stewardship Council labels, you can shop sustainably throughout the grocery store. 
How are these little labels driving big impacts in our food system?
GMOs (or genetically modified organisms) are living organisms whose genetic material has been manipulated in a laboratory through genetic engineering, creating combinations of plant, animal, bacteria, and/or virus genes that do not occur in nature or through traditional crossbreeding methods. 
Non-GMO Project verification means that a product is compliant with the Non-GMO Project Standard — the most rigorous third-party standard for GMO avoidance. The Standard includes stringent provisions for ingredient testing, segregation and traceability, as well as the most up-to-date provisions for the products of new GMO techniques.
Every day, we enjoy products only grown in the Global South — products like coffee, chocolate and bananas. The farmers and workers that produce them often do not earn enough to have a decent living — that is, to eat nutritious food, send their kids to school, have adequate shelter and the ability to withstand a crisis (such as COVID-19). Many live on less than $2 per day.
When you see the Fairtrade Mark on a product, you know that farmers were paid at least the cost of production as well as an added Fairtrade Premium to invest in their businesses and communities. You know that child labor was banned and that measures were in place to protect the local environment and address the effects of climate change. You also know that workers' rights were upheld, including the choice to collectively bargain.
The Marine Stewardship Council blue fish label is an ecolabel that can be found on seafood products, including fresh, canned and frozen seafood, omega-3 supplements and even pet food. It can also be found alongside seafood items on some restaurant menus. The blue fish helps consumers identify seafood that is certified sustainable, wild-caught, and traceable to a sustainable source. The MSC blue fish label can only be applied to wild-caught fish or seafood from a fishery that has been independently assessed on its impacts on wild fish populations and the ecosystems they're part of.
Your purchase of MSC certified seafood supports continuous changes on the water to help make the oceans healthier tomorrow than they are today. The impact is tangible: 92% of MSC certified fisheries make improvements so they can continue to meet the MSC Fisheries Standard. 
Why do we need these labels on food at all?
"Natural" food and "fair" food are big business these days. "Greenwashing" has become a serious problem. By making unverified or uncertified claims about how their products are grown, caught, or processed ("self-made marketing claims''), some unscrupulous companies capitalize on shoppers willing to pay a premium for products that support people and the planet. In response, there is a sea of different labels popping up with claims that sound really good, but make little impact. 
What can you do?
So how can you tell the difference between impactful labels and empty words? Try these three simple steps:
Choosing well-recognized, independent and third-party certification labels on products is the best place to start.

Labels like

Fairtrade Certified

,

Marine Stewardship Council (MSC) Certified

, and

Non-GMO Project Verified

represent rigorous standards with specific requirements that must be followed in order to receive the label. 

Check which brands are using these labels.

Brands both large and small voluntarily showcase this compliance by including the Fairtrade, MSC or Non-GMO Project labels on product packaging. This further gives shoppers assurance that it's not a fad but a sustainability tool used by brands to have a true, positive impact.

Shop the labels!

Grocery stores are highlighting products that are Fairtrade Certified, MSC Certified, and Non-GMO Project Verified throughout October. Support brands working towards a more sustainable future — and try something new.



Fairtrade America, Marine Stewardship Council, and Non-GMO Project are all nonprofit organizations driven by their collective mission to build a better food system, one that serves people and the planet. Fairtrade has been operating internationally since 1989, MSC's sustainable fishing standard has been in effect since 1998, and Non-GMO Project has been verifying products since 2010. Each of these nonprofits publishes their Standard online to give shoppers transparency, first and foremost. 
Want to learn more?
Follow the Butterfly with the Non-GMO Project. Sign up for our newsletters and like us on social media — @NonGMOProject.

Get the scoop on Fairtrade. Sign up to receive Fairtrade America's newsletter and follow them on social media — @FairtradeMarkUS
Learn how your choices at the grocery store can make a big difference for the health of our oceans at MSC.org. Get to know the people behind the label that make sustainable seafood possible at @MSCbluefish.

Lancaster, PA. 04/23/2021 — Select Juice, LLC (https://www.rijuice.com), 100% cold-pressed juice created in the heart of Pennsylvania Dutch Country, today announced Non-GMO Project verification (https://www.nongmoproject.org/) for seven fruit and vegetable juice blends from their ríjuice® product line. The company's ingredients, systems, and facilities demonstrated compliance in a third-party audit and verification of traceability of sourced ingredients from suppliers.
Handcrafted by artisans that are passionate about what they do, the ríjuice line of culinary-inspired blends are designed to highlight the company's signature ability to create extremely innovative, unique, and well-balanced formulas that appeal to a wide range of palates. Sean Wainwright, Chief Executive Officer stated, "Our mission has always been to create a flavorful, nutrient dense, pure product, and working with The Non-GMO Project is a logical extension of that commitment and provides our customers an additional measure of transparency."


Founded in 2014, the company operates its own production facility located in Lancaster, Pennsylvania. All of their juices are free of artificial ingredients, contain no added sugar or sweeteners, have no additives or preservatives, are dairy-free, soy-free, gluten-free, and are never heated or treated.
The ríjuice product line is currently available for wholesale either through the company or through KeHE Distributors. They also sell and ship direct to consumers in the mid-Atlantic region through their website. The juices retail for $3.99 for a single serve 10-ounce bottle and $8.99 for a 33-ounce bottle.
About ríjuice
We are a flavor-forward premium juice company that proudly serves the health and well-being of our customers by offering unique blends made with only the best ingredients. Our carefully crafted juices are born in Lancaster County, Pennsylvania – home of America's most fertile farmland. It is our belief that better soil, better plants, and better farming practices make our product unparalleled in both taste and nutritional value. We strive to be the definitive source for 100% all-natural juices known for quality and freshness.
For more information visit www.rijuice.com or follow them on Facebook and Instagram at rijuicefam.
###
Media Contact
Sean Wainwright
sean@rijuice.com
We're often asked how Non-GMO Project Verification and USDA Organic Certification intersect. If "Organic is always non-GMO," then what does the Non-GMO Project Verification mark offer to brands and shoppers? A lot! Let's walk through it.
The Non-GMO Project Verification Program is focused solely and deeply on GMOs, supported by testing and supply chain tracing. USDA Organic Certification is a holistic, process-based certification with practices modeled on natural ecosystems. Each certification examines food production from different angles. But when the two seals appear together on your favorite products they reflect the gold standard for food. 
Only the Butterfly tests for GMOs
The Non-GMO Project is a single-issue certification. We look at one thing, and we look at it deeply. This focus lets us dive intensely into the world of traditional and emerging GMOs to monitor developments in a rapidly growing field. Keeping up with the biotech industry is a full time job. Specifically, it is the full time job of the Non-GMO Project research team that monitors the industry's developments. 
By contrast, the National Organic Program — or "NOP," which develops regulations for USDA Organic certification — examines the systems of agricultural production. To become a certified organic producer, farmers develop and implement an "organic system plan." This plan covers a range of practices, such as preserving soil health, crop rotations, pest management, livestock care and more. The system is designed to build soil, minimize erosion and protect the water supply from contaminants — all laudable aims. 
While GMOs are considered an Excluded method of production under the NOP regulations, there is no requirement for testing and no mechanism to address contamination. The phrase "Organic is always non-GMO" is based on the idea that a producer, having followed their organic system plan, will not have purposefully used GMOs. The reality is that GMOs travel. Pollen drifts on wind and by the movement of diverse wildlife. Genetically modified organisms, once released into the environment, cannot be recalled. 
That is why the Non-GMO Project Standard outlines explicit requirements for GMO avoidance, including ongoing testing of all major ingredients considered high-risk for being GMO. By evaluating each product rather than the system that produced it, our Standard tackles contamination (or fraud) in Non-GMO Project Verified products — including how to correct an issue and keep the Butterfly strong.
Without testing requirements, the National Organic Program can miss contamination events and even outright fraud. A well-publicized case of organic fraud came to light in 2018, in which a Missouri farmer sold $140 million of conventionally grown grain as organic. The farmer's activities were ultimately discovered by the FBI — not by the USDA or the NOP — because of other criminal activities that were funded by the fraudulent acts.  
How non-GMO supports organic
By examining how our food is produced from different perspectives, Organic Certification and Non-GMO Project Verification provide shoppers with a much clearer picture of what they are investing in. That's not the only way that these two certifications complement each other.
Farms are often impacted by what happens upwind and upstream. Given GMOs' propensity for travel, an organic farmer whose neighbors grow non-GMO is better protected from contamination. A non-GMO buffer makes the investment in organic just that much safer. That's important, because transitioning to organic is a long and costly process. Before a farm can even be considered for organic certification, the land must be free from non-organic practices — including synthetic fertilizers, pesticides and GMOs — for 3 years. That's 3 years during which a farmer adopts new practices, but is not yet able to sell their product as organic. After the 3 year transition period, certification can take another 3-6 months. That is a significant financial investment, with 3-4 years before the farmer sees a return. 
Farmers often operate with tight margins, and to stagger the costs of going organic, some choose to transition their land incrementally, becoming "split producers." In this case, transitioning organic and non-organic operations exist side by side under the same operator. For split producers, growing non-GMO crops on pre-transition plots acts as an investment in their organic future, and because non-GMO doesn't require a transition period, the premiums producers earn from their non-GMO crops are gained within the growing season. 
Defining GMOs
When the National Organic Program was first introduced, genetically modified crops were also quite new. The first draft of the NOP was published in 1997 — an incarnation which actually allowed the use of genetic engineering. The public outcry was deafening. Of course, the draft was revised, and the spirit and practice of organic production emerged. Genetically modified organisms were listed as an Excluded method in the "Terms defined" section, akin to a glossary.
At this time, there were only a handful of GMO crops on the market. They were produced using DNA from other species and engineered to either withstand the application of herbicides or to produce an insecticide within the plant. Since then, emerging techniques for producing GMOs have outpaced regulation, investments in agricultural biotechnology have skyrocketed and GMOs face deregulation and decreased scrutiny. USDA officials have made public statements on the benefits of genetic engineering — even within organic agriculture — to the horror of many in the organic movement. 
This worries us, and we're not the only ones. It also concerns the National Organic Standards Board, or "NOSB" — the federal advisory committee that assists in developing standards for Organics: 
"Genetic engineering is a rapidly expanding field in science. The NOSB recognizes the need to continually add methods to the list for review and to determine if the methods are or are not acceptable in organic agriculture." 
There are currently two NOSB recommendations which would update and expand the definition of GMOs to include some of the emerging techniques in genetic engineering. They were submitted in 2018 and 2019, and neither has been integrated into existing regulations. During that time, the Non-GMO Project team has observed a massive increase in GMO development. Business is booming while regulation is stalled. 
Biotech companies go to great lengths to market new GMO technology as something distinct from traditional GMOs. This is a blatant attempt to distance themselves from negative perception of GMOs held by much of the public. In the European Union, new GMOs are regulated as traditional GMOs, but the stance in North America remains purposefully shrouded. This confusion has the power to erode public trust in federal certifications, ultimately allowing loopholes through which new GMOs can enter the food supply in places consumers would not reasonably expect them. That's why the Butterfly is more important than ever — it remains the highest standard for GMO avoidance in North America.
Better together
Each certification provides you with valuable insight into what you are purchasing and what kinds of agriculture you are supporting with your purchase. The combination of the USDA Organic Certification and the Butterfly seal offers a unique and powerful leverage point for working towards a better food system for all. The future is organic and non-GMO!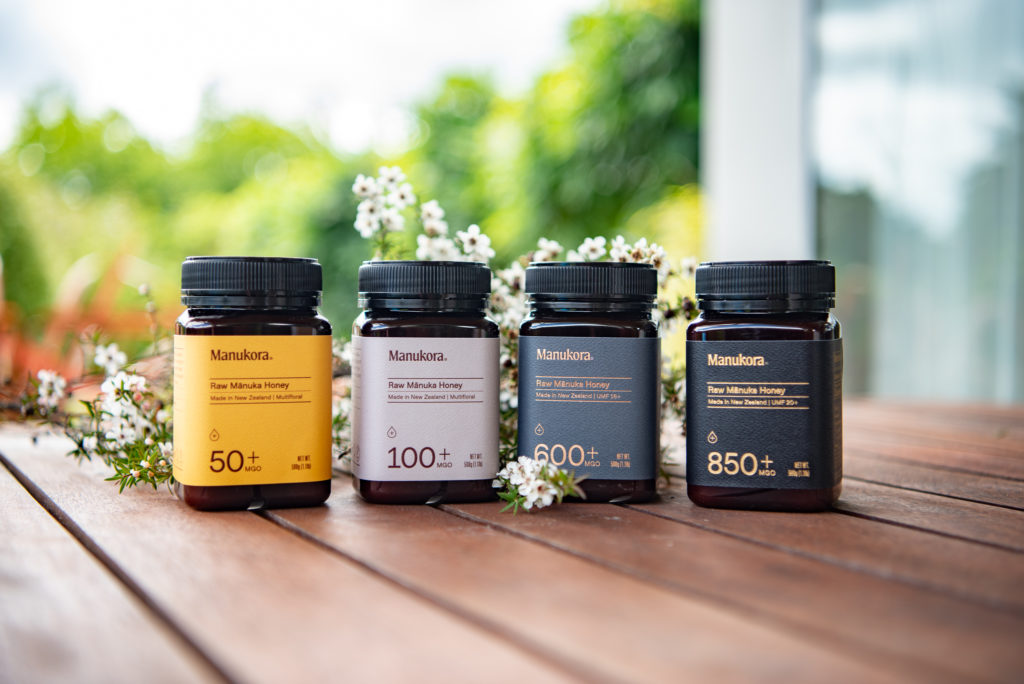 There is good news in the world of bees, and that news comes from New Zealand: Honey bee populations in the country have been growing steadily for the last century. Progress like this is all the more critical as global populations of bees and other pollinators move in the opposite direction. This achievement speaks to a deeply held commitment to the care, revitalization and sustainability of the natural world, a dedication to working with nature in every endeavor. The team at Manukora is at the forefront of that movement, as are their bees.
The Manukora philosophy of sustainable and ethical honey production was inspired by Bryce Hooton, a pioneer beekeeper from New Zealand's North Island. When Manukora CEO Mike Bell met Bryce in 2015, Mike was struck by the attentiveness with which Bryce raised his bees. That level of care was not only a huge asset. It was also an offshoot of a unique aspect of the master beekeeper's life: Bryce Hooton is completely blind.
In a 2015 interview, Bryce describes how he adapted to working with the bees without sight: "I actually go by sound," he says. "The sound today — they're actually happy. The sun's out, they're actually getting on to something, the barberry's in flower."
The interview as a whole is a fascinating exchange between one man who is entirely at ease in his surroundings and one amazed (and sighted) reporter who appears much less so. "Another thing you can do when you've got a little bit of time," Bryce continues, "you can actually give your little bees a pat." He reaches down and lightly strokes the mass of fuzzy bees with his relaxed, outstretched hand. The reporter pauses, takes a deep breath and pats the bees. And it's fine.
Bryce knows bees.
Beekeeping magic in the Golden Triangle
Bryce and Mike worked together tending hives in New Zealand's Golden Triangle, an expanse that stretches across the tip of the North Island. The secluded landscape is populated with native Mānuka trees, producing ideal conditions for some of the world's best honey. Mānuka honey is dark in color, has a unique taste and texture and is remarkably rich in flavonoids — plant compounds packed with antioxidants. The potential health benefits of flavonoids include boosted immune system, support for healthy aging and increased energy. 
Much of the Golden Triangle landscape is remote or sparsely populated, and the team at Manukora works with local landowners to ensure that bees aren't exposed to sprays or chemical residues. This type of outreach could have exponential benefits, as the conditions that beekeepers seek out also protect native wildlife and the people who share the land with them. As part of their Non-GMO Project Verification, Manukora hives must be at least 4 miles away from any land planted with genetically modified crops, keeping GMO pollen out of the beehives and the honey harvested from it. 
What makes Manukora special
Nestled amongst beekeepers striving for the best honey in the world, Manukora still stands alone. Their reputation rests in part on the Trust Code, a QR unique to each jar that tells the end user all about the honey they are about to consume. The Trust Code confirms the product's authenticity and potency, backed by certification guidelines upheld by the New Zealand government's Ministry of Primary Industries (MPI). Shoppers can use the Trust Code to trace their jar of Manukora honey back to the exact hive from which it was harvested.
In addition to Non-GMO Project verification, Manukora honey is also certified free of glyphosate residue. Glyphosate is the active ingredient in the world's most popular herbicide, as well as the subject of controversy and litigation as some longtime users of glyphosate products become seriously ill. Glyphosate can also compromise the health of bees who are exposed to it.
The guiding principle of Manukora's approach and operations is a steadfast commitment to learning from nature. It's the basis of their ambitious environmental programs. The team at Manukora is keenly aware of the challenges facing the stunning and unique ecosystems of New Zealand and continually tries to do better and learn more from arguably the greatest, most innovative teacher there is: the earth that holds us. You can check in on what the team is up to here. 
More than just honey: An Extra Dose of Immunity
Many of us are thinking about our health these days, wondering how best to support it under the challenges of daily life. Manukora's "An Extra Dose of Immunity" offers an easy and practical choice, delivering the antioxidant boost a tired body needs. Immune-boosting botanicals Elderberry and Echinacea join the highest quality, raw Mānuka honey. As a Manukora product, ingredients follow the strictest standards for responsible ecological sourcing, independent testing and Non-GMO Project verification. 
The Manukora name means you don't have to choose between caring for yourself and caring for the planet. From the remote regions of New Zealand, Manukora delivers powerful Mānuka honey while stewarding the land and shepherding its tiniest wildlife. 
Nature truly is awesome.
An assortment of their products have been verified compliant with the Project's rigorous Standard.
Colorado Springs, CO, February 9, 2021  Outside The Breadbox® (https://outsidethebreadbox.com), the first commercial gluten-free bakery in Colorado, today announced Non-GMO Project verification (https://www.nongmoproject.org/) for 10 items from their Vegan Oat product line. Outside The Breadbox's ingredients, systems, and facilities demonstrated compliance in a third-party audit, which included an onsite inspection of their bakery and verification of traceability of sourced ingredients from suppliers.
"We strive to provide products with natural, allergen-free ingredients to our customers," said Erik Van Horn, owner of Outside The Breadbox. "We chose to get our products Non-GMO Project Verified because we respect our customers' right to know what is in their food. People know to look for the butterfly mark because this verification offers the highest transparency about GMOs."
The Outside The Breadbox online store (https://store.outsidethebreadbox.com/) currently offers five Non-GMO Project Verified products: Vegan Oat Bread, Vegan Oat Bagels, Plain Bread Crumbs, Plain Croutons, and Vegan Oat Hamburger Buns. Outside The Breadbox is working hard to rapidly add more products to their Non-GMO certified list, which can be filtered for on the products page of their website (https://outsidethebreadbox.com/products/).
"The Non-GMO Project was founded in 2007 with the mission to provide consumers with verified non-GMO choices," shared Kiira Heymann, Client Experience Manager for the Non-GMO Project. "We currently support over 3,000 verified brands representing over 59,000 products and are pleased to welcome Outside The Breadbox to our growing portfolio. We look forward to working with their team in their ongoing commitment to providing their customers with Non-GMO Project Verified choices."
All Outside The Breadbox products are plant based, dairy free, and egg free; certified through the Gluten Free Certification Organization (GFCO https://gfco.org); and baked in their family-owned nut-free and soy-free facility in Colorado Springs, CO. A complete list of stores that carry Outside The Breadbox products can be found on their website (https://outsidethebreadbox.com/where-to-buy/store-locations/).
To be alerted about specials and new additions to their Non-GMO verified product assortment, follow Outside The Breadbox on Facebook (https://www.facebook.com/OutsideTheBreadboxCO/) and Instagram (https://www.instagram.com/OTB_glutenfree/) and sign up for their newsletter on their website (https://outsidethebreadbox.com).
About Outside The Breadbox
Established in 2003, Outside The Breadbox is a family-owned gluten-free, nut-free, and soy-free bakery located in Colorado Springs, Colorado. The company supplies certified gluten-free and verified Non-GMO products to local and regional grocery stores, directly to customers at its Colorado Springs storefront, and via its online store. Outside The Breadbox was the first commercial gluten-free bakery in Colorado and, since its inception, has continued research and development with all-natural, clean ingredients to deliver allergen-free products that delight consumers with uncompromised taste. Their expanding product line includes gluten-free, vegan, and non-GMO breads and bagels, as well as cookies, crackers, pies, and pizzas. As they grow their business, the family remains dedicated to delivering only wholesome, delicious products to their customers' tables. In support of their local community, Outside The Breadbox donates baked goods to Marian House and Care and Share Food Bank. For more information, visit www.outsidethebreadbox.com, call 719-633-3434, or visit their retail location at 2027 West Colorado Avenue, Colorado Springs, CO, 80904.
###
 Contact:
Allison Price
303-800-6364
It's not just grocery shoppers who are looking for Non-GMO Project Verified products — the brands you know and trust look for the Butterfly when they source ingredients too! As shoppers demand more transparency from food brands, brands are in turn demanding more transparency and more documentation from their suppliers. For the supply chain participants who make our favorite ingredients, this means proof of Non-GMO Project Verification is more important than ever before.

Non-GMO Project Certificate of Verification
Just like consumers look for the Verified mark as proof a product is really non-GMO, food producers look for a Non-GMO Project Certificate of Verification (COV). Each Verified product receives a COV with an expiration date, a unique certificate number, and a scope of verification: all the information downstream clients need to confirm that the ingredients they seek are truly Non-GMO Project Verified.

Getting a product Verified is hard work, but the good news is that verification can follow an ingredient all the way through the supply chain. For example, one food company might choose to have their corn flour evaluated. When they sell that Verified corn flour to a company that makes Verified corn tortillas, the tortilla company does not need to spend time and money getting that flour re-tested. Instead, they simply follow best practices to prevent contamination and show the COV from that flour to their third-party Technical Administrator. This helps Verified brands pass savings on to consumers without compromising quality.

Self-Made Claims Are Not Enough!

You may have seen "self-made" non-GMO claims on products before. Without the backing of a third-party certifier like the Non-GMO Project, these claims are asking for trust with no proof. These self-made claims are not good enough for most people anymore. Trusted non-GMO certifications are now all but mandatory in the natural product industry, especially as brands prepare to comply with new laws and store policies. For example: 
The National Bioengineered Food Disclosure (a new law in the United States) will require many food producers to demonstrate that their products do not contain GMOs. As thousands of brands prepare for compliance with this new law, they are all seeking non-GMO goods accompanied by proper documentation. 
Non-GMO Project COVs are particularly invaluable to participants who wish to sell their product in Whole Foods Market, which will require third-party verification for products making a non-GMO claim by 2022. As more stores develop non-GMO purchasing and labeling policies, brands increasingly need to prove their Verified status to secure space on store shelves.

Look for the Butterfly
The Non-GMO Project doesn't just test for GMOs in finished products, it demands testing and transparency all the way back through the supply chain. For brands, a COV is proof of that testing and transparency. For consumers, the Non-GMO Project Verified mark means the same thing: this product earned North America's most meaningful label for GMO avoidance.

This content was originally posted on 3/09/2020.
The story of ZYN Infused Drinks is about family. It's about a family that traveled very far to build a future for their children, who traveled back many times to keep the bonds between the old world and the new one strong. The family's roots — metaphoric and literal — connected them across cultures, filling them with purpose, health and life.
The founders of ZYN, Asim and Qasim Khan were born in Pakistan. They spent their early years surrounded by a large family, learning the traditional Ayurvedic remedies practiced there for millennia. Ayurveda goes beyond a medical discipline: It is better described as a way of life, addressing the individual's physical and spiritual needs. Within this holistic system, food is medicine and the root causes of disease are just as important as alleviating symptoms. When their parents moved the boys to the U.S. at the age of 9, this practice was one of the cherished things they brought with them.
Over the years the ties with family and tradition in the East remained strong. During a visit in 2016, Asim and Qasim's father suffered severe inflammation and pain in his foot, likely related to his diabetes and the long plane flight. Their aunt used a common traditional remedy to treat their father's pain: a paste of turmeric root and olive oil massaged onto his affected area. Within an hour, the inflammation and pain were gone. At that moment, Asim and Qasim found inspiration to share this powerful plant — a staple of Eastern food, medicine and culture —  with their fellow Americans. "Part of our goal is connecting cultures," says Qasim.
East Meets West
The healing properties of turmeric are well known to the 2 billion or so people who live on the eastern side of the globe. Turmeric contains a powerful compound — curcumin — with remarkable healing properties: A natural anti-inflammatory, anti-bacterial, antioxidant and antifungal. On its own, curcumin isn't absorbed into the body very efficiently. It needs a fellow traveler — piperine — to maximize the benefits. Piperine is found in black pepper, and it can increase the body's ability to absorb curcumin by up to 2000%.
Foods and traditional remedies that combine curcumin and piperine are common in Pakistan. Turmeric appears in most meals — on average, a person consumes around 15 of the roots per day. A Western diet, on the other hand, is generally high in foods that can increase inflammation in the body: refined carbohydrates, trans fats, added sugars and processed meats. Over time, this inflammation can increase the risk of certain health problems, and turmeric is emerging in the West as a sought-after supplement. Even professional athletes — those who ask the most from their bodies and whose livelihoods depend on their performance — use curcumin to promote muscle recovery. The pioneering brothers have relationships with some of the biggest names in sports, supplying ZYN beverages to entire teams to keep them at their peak.
The makers of ZYN do more than bring an Eastern remedy to a Western audience: They also translate it. Co-founder Asim Khan's goal is to "take the wisdom and then package it into a form that we would enjoy, and our kids would enjoy." Anyone who has ever told their child, "Try it, it's good for you!" knows this is not, on its own, a persuasive argument. Kids go for things that taste good, with bonus points if it's shaped like an animal. ZYN has a light, refreshing taste without being overly sweet. As a liquid, it will take on the shape of its container, so bring on the elephant sippy-cups!
Inspiring Positive Change
The Khan brothers operate their business with an ambition that goes beyond making an excellent product.  To them, it's not enough to make a living; that living must actively give back to the people and the planet. As a Certified B-Corp, ZYN meets the highest standards of positive social and environmental impact, operating with transparency and accountability.
In this spirit, ZYN welcomed the rigor of the Non-GMO Project Standard. Sourcing the finest ingredients is a core promise of ZYN beverages: As the popularity of turmeric grows in the West, there's a temptation among unscrupulous sellers to dye low-quality turmeric darker — the warm glow of deepest orange reflects the root's strength and purity. ZYN sources their turmeric from India's fertile valley where turmeric has been grown for centuries.  The farms are sustainable and solar power is used for operations.  ZYN's curcumin (from turmeric) provider is NON- GMO Project Verified and meets the US and international standards for good manufacturing and production.  Non-GMO Project verification was a natural fit for ZYN, as genetic modification is deeply unpopular in Pakistan and the founders and their ancestors grew up consuming natural foods and beverages all their lives. The Butterfly seal is symbolic of a perfect union between ZYN's ancient origins and its Western market. 
The story of ZYN is inspiring, and the brothers Khan hope you will share in that inspiration, taking a step towards the kind of balance and connection at the root of the Ayurvedic lifestyle. After all, every journey — no matter how long — begins with a single step. May yours be full of purpose and good health.
Nourish yourself every day with ZYN beverages. Visit their website to learn more - https://drinkzyn.com/.
In 2011, Peter Cullinane had an idea. He was at a grocery store, searching for some high-quality butter to go with the baguette and ham he'd put aside for lunch. He knew that while the right butter could turn a simple meal into a symphony, the wrong butter could be a train wreck (not to mention a disservice to the baguette and ham). Surveying the shelves, Peter asked himself why the best quality butter was imported all the way from Europe when the best land for dairy was right there in New Zealand. And because there was no reasonable answer to that question, he decided to make his own. Grabbing some fresh cream and a mason jar, Peter started the journey to Lewis Road.
The landscape of New Zealand is synonymous with epic journeys. We have J.R.R Tolkein and Peter Jackson to thank for that. There are many metaphoric and archetypal interpretations of the Lord of the Rings, but I favor its environmental message. Tolkein wrote most of the trilogy against the backdrop of the Second World War. Did the author somehow foresee the influence that wartime technology would have on chemically-based agriculture, and ultimately on GMOs? Without some kind of magical foresight, how could such a thing be possible? (*wink*) But the hellish assembly line of Isengard and its ultimate defeat by powerful tree shepherds was epic. A scoreboard at the close of The Two Towers would have read as follows:
Forces of Nature: 1
Large-scale Industrialization: 0
Which brings us back to Peter Cullinane's butter. To perfect his butter-making skills and build his business, Peter adopted a simple guiding principle: How can we make it as it should be? That's how he avoided the all-too-common temptation to make products faster or cheaper —there's already more than enough of that at the grocer's. Lewis Road stretches in a different direction, where product quality, animal welfare and environmental stewardship govern action and innovation.
The best butter comes from the best cream, and the best cream comes from the happiest and healthiest cows. Those cows live in New Zealand, where climate and rainfall conspire to create "any self-respecting dairy cow's dream home." Here, the farmers that work with Lewis Road honor the fundamental connection between humans, animals, and plants: In a perfect system, the land feeds the animals and plants, the animals and plants feed the people, and the people make sure the plant and animal waste products (ahem, manure) are returned to the land. In a perfect system, each element makes the others stronger. This is the philosophy underpinning Lewis Road's Ten Promises, which include an Environmental Sustainability Plan, as well as commitments to the highest standards of care for the cows and the people that work with them.
Lewis Road cows have constant access to pastureland, 365 days per year. They are never confined to barns or stalls. Their feed is never "stretched" with cost-cutting GMO grains or palm oil by-products. Lewis Road's dedication to animal welfare shines in their adoption of the Five Freedoms:
Freedom from thirst and hunger

Freedom from discomfort

Freedom from pain, injury and disease

Freedom to express normal behavior

Freedom from fear and distress
(Author's note: At this point, not only do I want to move to New Zealand, I'm also seriously considering becoming a dairy cow.)
The product of this beautiful life is, quite simply, beautiful butter. Lewis Road butter has unparalleled taste and texture, and it's high in valuable Omega-3 fatty acids and Vitamin K2.  Whether you are a butter-purist, looking for the original product, or your adventurous palate draws you to Lewis Road's newest flavored products, the highest quality butter in the world is now available in the US. Click here to find a store near you. Try the butter lover's butter. 
GMOs have a large hoof-print in the world of animal-derived products. Keeping them out of the food supply and out of your grocery cart is no small task. During National Dairy Month, we tip our hats to all the brands that have committed to non-GMO by bringing you an overview of where GMOs show up in the dairy aisle.
You are what your dairy cow eats.
The most common way for GMOs to enter the dairy supply is through animal feed. High-risk GMO crops, including corn, soy, cottonseed, and alfalfa, are prevalent in animal feed. These four crops cover more than half of U.S. cropland. Of that acreage, 92% of the corn grown is GMO, and 94% of the soy. That adds up to hundreds of millions of acres of GMO crops destined for the feed trough.
When products made from animal sources undergo verification, the livestock feed faces extra scrutiny and testing to ensure it meets the Non-GMO Project Standard. Because of the massive scale of GMO commodity crop acreage, increasing the demand for non-GMO feed is the strongest leverage point to move the needle on conventionally grown crops. 
Now, genetically engineered dairy is entering the market, including products made with synthetic biology or gene editing techniques like CRISPR and TALEN. (For more on the latest threats from synbio non-animal dairy, read Synbio Milk is a Dud.)
New techniques, same GMOs
The biotechnology industry is hard at work to find new ways to bend DNA to its will. In 2015, the first genetically engineered hornless cows were born. The goal of the hornless cow is — to put it plainly — to eliminate the "stabby" bits, which pose risks for cows housed in tight quarters and the farmers who tend to them. While we are in no way pro-puncture, it's worth noting the cow horns are unique in that they are an extension of the animal's sinus cavities. The health of the horns impacts the animal's health, well-being, and even their social functioning (cows are herd animals, not loners). Since hornless cattle are already produced through traditional breeding, one wonders why GMO hornless cows were thought necessary at all. 
We also see a push to change the composition of milk by genetically modifying cows and goats. Cows have even been engineered to produce human breast milk. Or, skipping the cow altogether, synthetic breast milk has been created entirely in the lab. Breast milk is a weighty topic, given its unique role in the bond between a new parent and baby. While every parent wants what's best for their child, some encounter obstacles to breastfeeding, facing heartache and difficult decisions. Does synthetic breast milk — created with new technology in the complex and often misunderstood world of genetics — truly offer a better choice?
#BeTheButterfly in the dairy aisle
With millions and acres and billions of dollars at play in the world of genetically modified dairy, what can the lone consumer do? That part is, thankfully, simple. You can support non-GMO in the dairy industry, from what the animals eat to what your families eat. You can support — and grow — the demand for non-GMO corn and soy, and say no to sneaky synbio. Consumer demand drives the market. By looking for the butterfly, you make a powerful statement that your food comes from nature, and you want it to stay that way.
This content was originally posted on 6/26/2020.